Posted:
April 25th, 2011 |
Author:
Lance Green
|
Filed under:
Uncategorized
|
No Comments »
Throughout the twentieth and early twenty-first centuries, companies began to further their creative means of advertising in order to reach the public and sell a brand. Unlike previous world's fairs, such as The Great Exhibition of 1851, where nations gathered to show off their wares rather than companies promoting their name, these exhibitions presented the mechanical processes each company utilized in order to make their products. By seeing the technicalities in these interactive spectacles, consumers experienced detailed visions of the future; in the end remembering the name of the company and the products and concepts they created.
The 1939 World's Fair of New York City brought many exciting and never-before-seen exhibitions to light, one of the most prominent being the Ford Cycle of Production. Spanning one hundred feet in diameter and weighing in at one hundred and fifty-two tons, the showcase floated on twenty thousand gallons of water.<a href=" />[1] Assembly processes in this display were dramatized by electronically activated models that demonstrated how the auto industry took raw materials from suppliers and, through a bond between employee and machine, were converted into Ford automobiles. As stated by Jeffrey Meikle, "Visitors no doubt learned something about auto manufacturing from this exhibit. Others took away the message that Ford's operations benefitted thousands of people…but most…delighted in the mechanics and scope of the display itself."[2] The elaborate presentation taught viewers that machine-made products were the affordable way of the future. Ford achieved a desirable exhibition with their careful choice of detail and mechanical representation of their techniques. Meikle ended his statement by saying that "each display functioned as an advertisement [that] intended to leave vague impressions of a corporation's enterprise and public beneficence."[3]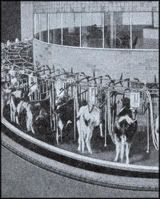 Also present at the 1939 World's Fair was the Borden Rotolactor, a carousel of fifty cows that could be milked in just twelve minutes. Viewers watched as cows stepped into the milking machine, their milk drawn into glass containers located above them. Cows were examined daily for any signs of disease, making the Rotolactor "far more sanitary and speedy in its operation than any method hitherto employed,"[4] as stated by Popular Mechanics. The promise of a mechanical process where milk is "bottled in record-breaking time" and "never touched by human hands"[5] drew in the interest of many. In order to further public interest in this modern marvel, Borden searched for a celebrity to have present at the Rotolactor, quickly choosing a cow to represent their brand mascot, Elsie, who had previously only been present in advertising.[6] Just the presence of their new mascot boosted the daily amount of visitors. Walker-Borden Laboratories, the brand widely known for their milk, excited viewers with their mechanical exaggeration of the milking process, now integrated into a carousel where cows were bathed and milked. The Borden Rotolactor amazed audiences with its seemingly large advancement in milk processing. Though the exhibition appears outlandish in modern times, it forced the public to remember what they had witnessed at the fair; memories primarily consisting of the ways in which Borden marketed their products.
Chrysler's Engineering Island, located at the 1964 World's Fair, was the largest pavilion at the event and was assembled across five islands, "linked by bridges and set in a six-acre lake."[7] The islands represented specific aspects of the mechanical work of Chrysler, these being engineering, production, styling, and operations. The fifth island held a constantly running puppet show. This imaginative exhibit featured such spectacles as a one hundred foot long engine with a dragon-shaped crankshaft and an assembly line of metallic creatures. The over-sized engine was highlighted with a massive revolving fan and an air filter featuring the Chrysler logo. Visitors were able to walk through the engine, interacting with the mechanical construction Chrysler integrated into their work. One of the islands, known then as Production Island, featured rides where the public could travel along the Chrysler assembly line and watch as metallic creatures assembled automobiles. Also present were exhibits "in which visual displays stressed the company's automotive styling."[8] By viewing the assembly lines and touring the larger than life models of their car parts and materials, Chrysler was able to advertise their brand name through fun and informative exhibitions, not by everyday means of advertising.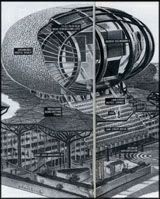 Also at the 1964 World's Fair in New York was the IBM Pavilion, a building with various exhibits that explained to the public "how computer circuits and memory cores worked."[9] International Business Machines sought to describe the way in which computers were beneficial using techniques such as an extended game of twenty questions to solve complex problems. The exhibition featured a ninety-foot tall, ellipsoidal-shaped theatre that previewed a show known as the "Information Machine." At each preview five hundred visitors were hydraulically lifted into the theatre to watch the fifteen-minute show created by Charles Eames himself. The presentation featured fourteen synchronized projectors and nine screens within the theatre that explained to viewers "how both the human brain and the computer obtained sensory information, fed it to the brain…and through a program interpreted it to make some decision of what to do."[10] This was the beginning of the computer age to the public and the basis for their functions. According to Walter Dorwin Teague, exhibitions like this at the world's fair functioned primarily as "a place where merchants come to display their wares to possible purchasers" while continuing to be "aesthetically beautiful – a vast, magnificent work of art."[11] IBM set out to inspire eagerness and excitement in the public, leading them to believe that computers were the way of the near future and that IBM was the connection to achieving this.
Decades later, Test Track was created as a high-thrill attraction located at Epcot within Walt Disney World Resort in Florida. Designed by General Motors Corporation and Walt Disney Imagineering, the ride is a simulated voyage through the laborious testing procedures General Motors uses to evaluate its automobiles, ending in a high-speed ride around the outer building. While waiting in line, visitors are bombarded with the GM branding before being seated in futuristic test vehicles in a reproduction of the GM testing facility. Riders are then taken through a series of assessments that imitate how actual vehicle prototype evaluations are conducted, such as suspension testing, ABS simulations, and body durability in all types of weather elements.[12] To further excite the riders, GM allows the vehicle to exit the building on a sixty-five mph track that wraps around the building on a racetrack style layout before returning to the loading dock. Using techniques present at the aforementioned expositions in New York, General Motors and Walt Disney Imagineering created a ride that not only interested the visitors in the production and testing of their vehicles, but also established a connection for the viewers to remember their company name.
A modern-day example of these visions of the future is the concept city known as The Green Float Project, a highly ambitious development by the Shimizu Corporation to construct large artificial rafts that, when combined, make massive, sustainable communities. The development plans to feature the largest building known to man and will expand organically. The base of the community is modeled after a water lily and is intended to house numerous residential areas as well as a waterside resort with ocean-side townhouses containing around fifty thousand people. Operation of this community is dependent on natural elements, including solar, wave, wind, and ocean thermal energy conversion.[13] This concept idea captures the interest of those interested in a view of the future, as "Shimizu aims to make Green Float a reality by 2025."[14] By viewing the models displayed at events and hearing the technicalities of this conceptual idea, spectators are now aware that companies like Shimizu are the answer to our future housing options.
Over the last century, companies have come up with creative means of advertising in order to reach the public. By creating elaborate exhibitions that sought to portray the mechanization and construction of their products, companies provided viewers with a bright outlook on the near future. Observing the technicalities in these interactive and creative spectacles allowed audiences to experience these visions of the future, in the end taking home the company name in their minds and the products these brands create.
---
"Ford Pavilion Exhibits at the 1939 New York World's Fair in Flushing Meadows-Corona Park, New York." CriticalPast.com: Historic Stock Footage and Archival Video Clips and Photo Images from the 1890s to the 1990s. http://www.criticalpast.com/video/65675028518_advancement-of-city_building-of-Ford_people-watching_manufacturing-zone (accessed April 10, 2011).
Meikle, Jeffrey L. Design in the USA. Oxford: Oxford University Press, 2005.
""Rotolactor" Milks 50 Cows in 12 Minutes." Modern Mechanics, February 1931, 51.
"Walker Gordon Farm – Official website." Walker Gordon Farm History. http://walkergordononline.com/history.asp (accessed April 18, 2011).
"1964 World's Fair – Chrysler Pavilion." Online Imperial Club (OIC) for Imperial, Chrysler Imperial, and Chrysler  New Yorker Brougham Enthusiasts. http://www.imperialclub.com/ClubsAndLinks/WorldsFair/chrysler.htm (accessed April 10, 2011).
"Inside IBM's World's Fair 'Egg'." Popular Science, July 1964.
"Test Track | Walt Disney World Resort." Walt Disney World Resort. http://disneyworld.disney.go.com/parks/epcot/attractions/test-track/ (accessed April 10, 2011).
"DigInfo TV – GREEN FLOAT – a Floating City in the Sky." DigInfo TV. http://www.diginfo.tv/2010/11/02/10-0196-r-en.php (accessed April 10, 2011).
---
---